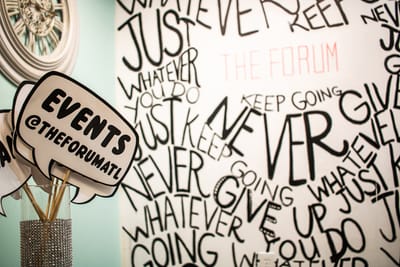 The Forum is a coworking, meeting & event space that was designed to help you build, collaborate and make magic. We cater to a variety of events:
Weddings, bridal & baby showers, business meetings, birthday parties, expos, church events, concerts, etc.
Rental of the entire space offers:
Holds up to 80 People
Tables
Couches & chairs for seating
Televisions
Kitchenette
A five hour minimum is required for the following type of events:
Birthday Parties
Showers (Bridal, Baby, etc.)
Graduation Parties
All Family/Friend gatherings
Any other "party" type of event
Weekend (Friday-Sunday) time slots available are 12:00pm-5:00pm & 6:30pm-11:30pm
Weekday (Monday-Thursday) time slot available are 6:30pm-11:30pm
A three hour minimum is required for the following type of events:
Meetings
Trainings
Bible Studies
Book Clubs
Other events that have less than 30 people with no décor or food
Contact us directly for available time slots for three hour minimum type events (404) 474-0222
We require that the first & last 30 minutes of any type of event to be used for the set up & clean up of the event. Meaning, actual event guests are not allowed the first & last 30 minutes of every event.
(Ex. If your booking timeframe is from 12:00pm-5:00pm, the earliest/latest you event would start/end would be 12:30pm-4:30pm)
$150 incidental deposit is due 48 hours before the event.
All incidental deposits are refundable as long as the terms of the contract are not violated.
Our hourly pricing is based on a tier system. Our tiers are based on how many people are included in your event, this includes all individuals (event planners, DJ's, caterers, etc). We ask that you pick the tier that best fits your event needs.
(Tier 1) Up to 30 people | $85/hr rental + $90 Cleaning fee
(Tier 2) Up to 31-60 people | $110/hr rental + $90 Cleaning fee
(Tier 3) Up to 61 and over | $140/hr rental + $90 cleaning
All Inclusive Packages
: For a customized look, packages are available upon request.
Contact us for more details and check out the gallery below for pictures!
Contracting Details
: Venue pricing includes use of space for a specified time-frame; A rental reservation is considered confirmed and binding after the date and time are agreed upon and the following have been received by The Forum staff: • Signed rental agreement • 50% rental deposit is required to reserve the event space. Full payment is due 14 days prior to event date or at the time of reservation. For each additional 30 minutes over time time, $85 will be charged to the billing information on file.
Catering
: The Forum does not provide catering. Guests are welcome to bring their own food and beverage.
Cancellation
: 50% Rental fees will be refunded in full if cancellation notice is received 45 days or more prior to rental date.